Program
Program Outline
Following is an outline of the UTokyo EMP.
Offered twice a year (Autumn term and Spring term), beginning in October and April, respectively
Held twice weekly on Friday and Saturday (all day), for 20 weeks, excluding summer and winter holidays
A non-degree program targeting working adults. All participants meeting the prescribed conditions are issued a course completion certificate
During the orientation period (the first five days, excluding Sunday and Tuesday), participants work to get to know each other very well and build deep relationships through team activities
A practical management capability training program incorporating cutting-edge knowledge, and based on historically refined and expansive learning
Participants are mainly corporate employees and also include bureaucrats and professionals, and other outstanding individuals in their forties. There are approximately 25 participants
Classes are held in both Japanese and English, with about 10 percent expected to be in English
Program Structure
The UTokyo EMP faculty is formed around professors, mainly from the University of Tokyo, and professionals, such as management consultants and lawyers. It also includes managers active on the leading edge, world leaders who visit the University of Tokyo, and other appropriate individuals. Through the collaboration of this faculty, it provides deep insight and learning, and management knowledge encompassing structured advanced knowledge. The program also includes the improvement of communication capability as a supporting skill.

Multifaceted Structure of the Program
Program Details
1)Deep Insight and Learning
Deep Insight and Learning, which is fundamental, encourages participants to establish their own axes by thinking from a broad viewpoint beyond the values of their organizations and by expressing themselves in their own words. These lectures launch discussions that, while stemming from to today's central issues and the main issues surrounding them, as well as issues within those main issues, also go beyond the vertical confines of specific fields.

Agenda Shaping: Deep Insight and Learning
2)Management Knowledge
Management Knowledge, as a field actually involved in the management of corporations and a variety of organizations, focuses on the latest events about which it is necessary to possess fundamental knowledge. While gaining an overall perspective on themes in management, participants can learn about fields where they lacked understanding, and identify their blind spots.
3)Communication Skills
The program reconfirms the importance of increasing multifaceted communication capability as a platform that supports the above, and provides fundamental training. With regard to English, it offers, when required, individual training from an external provider that includes not only improvement in current ability, but also practical training that enables participants to express approximately 70 percent of what they want to say using their present ability.
4)UTokyo EMP Salon
The UTokyo EMP Salon offers participants the opportunity to chat informally with specialists in the Arts, Culture, Education, and other fields not covered in the "Deep Insight and Learning" and "Management Knowledge" program. (Usually once a month on Friday evening)
5)Lecture Contents
The contents of the Round 22 program will be as follows. Approximately 80% of lectures focus on "Deep Insight and Learning."
Lecture contents
Deep insight and learning

World religions, philosophy and thought (Buddhism, Chinese thought, western thought, Greek philosophy, the Islamic world, Judaism, Christianity, Indian society and culture, East Asia, life & ethics, etc.)
Understanding and overview of economics (economic history, fiscal policy, macro/micro economics, economic crisis, etc.)
Production management and its thought
Law and politics (constitutionalism and the court)
International society and Japan (politics and diplomacy in the United States, China and Europe, international political science, Arab world, etc.)
Agriculture (GMO, food safety, agriculture and environment, forests & forestry, bionanomaterials and cellulose sciences, etc.)
Medical and health sciences (medical care policy, medical care systems, regenerative medicine, nursing, autophagy, medical applications of VR, etc.)
Drug development (life innovation industry, preemptive medication for dementia, etc.)
Life sciences (human embryonic stem cells and induced pluripotent stem cells, from genome to life system, emerging viruses etc.)
Brain science (language & brain science, molecular & cellular mechanism)
Information science (data science, essence of Internet, big data era, AI, etc.)
Media studies (media and "reflexive society")
Systems engineering (electric power systems, mathematics that is useful to society, non-equilibrium physics, etc.)
Materials science (solid-state science, the world of ultra-high pressure, organic molecule, soft matter, etc.)
Material cycles and the environment (the global environmental problems, earthquakes, nuclear power, climate change, water, low-carbon society, etc.)
Universe (the shape of Universe and the origin of matter, Higgs boson, black matter & energy, neutrino, etc.)
Architecture (environmental design in architecture and cities, sustainable architecture and innovation)
Barrier-free, mathematics, gerontology, history of science, cognitive science, social psychology, organic device, education, disaster sociology, etc.
Special lectures (topics include revitalization of Japan, knowledge collaboration, working life reform, etc.)

Management knowledge

Marketing
Organizations (approaches to organizational design)
Social system design
Strategic thinking
Finance
Corporate legal issues
Knowledge indispensable to international business (China, Russia, EU, India, etc.)
Lectures by corporate executives and ambassadors

Communication skills

Practicing the ability to use personal expressions in English
Communication skills workshops

EMP Salon

Japanese traditional arts (Noh)
Experiencing Zen meditation
Other arts and culture
Location of UTokyo EMP Lectures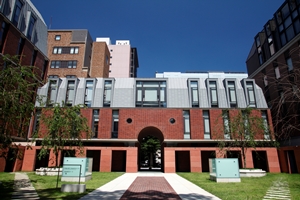 Most lectures will be on the Hongo Campus of The University of Tokyo (Ito International Research Center), although other facilities belonging to The University will also be utilized (Komaba Campus, Kashiwa Campus, Yayoi Campus, etc.).